With the #75 pick in the draft (which only goes to the third round), I selected Penn State RB Tony Hunt.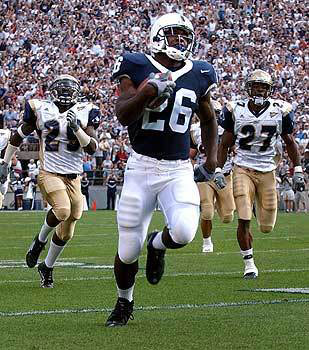 PHOTO SOURCE
Hunt is a classic bruiser. He lacks elite speed, but he's got excellent drive and displays some excellent side to side. I knew the people wanted an RB here, and I was looking for a powerful runner to counteract the smaller tandem of Warrick Dunn and Jerious Norwood. It came down to him and Jackie Battle, and in the end Hunt's superior speed and blocking ability won the day for him. He'll be the #3 back for the first year, but then I expect him to share carries with Norwood and get plenty of goal line exposure. And before you ask the obvious question, yeah, I do see him as sort of a T.J. Duckett type. The difference is that with some training, I think you'll start to see some shiftiness from Hunt.
What are your thoughts on this pick?