So Joe Johnson finally leaves atlanta, wait..sorry wrong site:/........Anywho's, everyone know's about the new aquistion of Mr. (i dEbOeD the rookie's #22) Asante Samuel . I think you all would agree with me when i say Mr. big stuff better produce(i have no doubt that he will. Then there's our classic "Rag's 2 Riches" stroy Mr. Optimus Grimes him self!!! Im a little frieghten that Grimes might not get that big contract he so well deserve's and it would be hard letting him go. I feel like Grimes is our baby (no homo) that we've raised so well and we watched our child grow in to a star sniff snif* blow*. Fortunatly, thats not what we're here for; Both were rank in the "Top 10 Cornerbacks in Success Rate of 2011" despite Grimes down year. Now, repeat after me !!Mirror Mirror on the wall who will be the fairest corner of them all? here i will discuss who i assume will be the best corner out of this dynamic duo in 2012-2013.
Duece started 14 games last season and rank 3rd in overall success rate at 67%. This came about because out of corners who were targeted at least 40 times in 2011 Samuel allowed only 4.4 yards per pass (3rd). Also "Sir 22" only allowed 2.0 YAC on average(2nd). I must mention he ranked 1st in 2010 but obviously his teams D# changed a bit last year.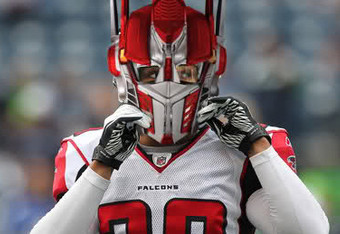 Grimes started 12 games last season and rank 10th in overall success rate . An interesting fact: PFF consider's Optimus 1 of 2 corner backs chasing Darrell Revis's spot for top corner in the leauge(that's deep homie). Recievers caught only 44.6% of balls thrown his way. Grimes allowed 6.5 yards per pass. He also broke up an additional 12 passes but only grabed one interception ( boomer because i know for sure he dropped 2 clear int's last year :/)
Hopefully both of these guys will put up big numbers and stay heathy all while shuting down opposing team's passing game but my prediction is that Grimes feeds off of Samuels presence. I truly think that Qb's will revert to looking at grimes as the weaker corner and grimes will once again show Qb's why he has the name "Optimus"(c'mon man he jumped 2 feet over Megatron to defend an obvisous TD).
What do you guy's think?
As usual Vote the Poll= comment!