G'day Falcons fans, and welcome back to the weekly contribution I, in collaboration with fellow Aussie Falcons fan dunlagh, hope to be making to the Falcoholic. Each week I'll outline what would constitute the best case for the Falcons this week, while dunlagh will handle doomsayer duty. Enjoy.
…Well. That sucked. Really. That's my whole intro this week.
Ok maybe not. We got smoked by Chicago last week. The whole team, minus four or five players, went AWOL. Matt Ryan was forced to take the check down most plays, our pass defence was woeful, Eric Weems forgot that 50% of his job description is 'Returner'. Eh…it was bad. Some positives were the run D, our running game (before we abandoned it, see: 5 minutes into the 2nd quarter) and the pass rush really stepped up. We didn't come out of Soldier Field with 0 positives right? …Right?
The Eagles this week is a whole different test. The self-appointed 'Dream Team' took a while to get going against the Rams, and really only flourished late in the game. On the other hand, Philly have been our bogey team since forever. Last time in the Dome, we lost without Ryan. Last time in Philly, we lost despite Vick not playing. This week it is finally on. Best Case Scenario this week? The front four excel, we clamp down on 'speed plays' and the Ice Man cometh back.
The front four excel: With the faith shattering news that Babineaux is out for 3-5 weeks, our defensive tackle depth (seen, by me at least, to be of excellent quality in the preseason) is ready for a big test. As we know Corey Peters isn't feeling too great following a concussion, but early word is that he'll be back, leaving us with him, Peria Jerry, Vance Walker and Carlton Powell to hold down the snaps at DT. Personally I've got a lot of faith in Jerry bouncing back after an injury plagued few years, and Sunday's game did nothing to shake that for me. He looked solid and didn't give up any plays through his gaps. He also was veeeeery close to getting a sack, which would have been a nice confidence booster for him. But Philadelphia and Chicago couldn't be more different if they tried. LeSean McCoy and Matt Forte are both elite level running backs, albeit with very different styles. Forte is a lot more of a power hitter than Shady – however, what McCoy lacks in power, he more than makes up for in speed. I'll touch on this later, but the week 6 game last year was by far and away the worst defensive game I have seen the Falcons play under the new regime, and I include the Packers playoff game in that. We were slow, deflated, didn't hit hard (Dunta's huge hit excepted) and looked all around awful. The front four will need to control their gaps to ensure that McCoy doesn't see any creases all day.
However, there's also this guy who's fairly ok at QB – Michael Vick (apparently he used to play for us or something, I don't know). This is where our DT's will need to step up. A lot of times, the Eagles give up pressure to the defensive ends (and based on the Chicago performance, he'll be facing this a lot from John Abraham, Kroy Biermann and hopefully Ray Edwards). The offensive line know this, and often try and push the DTs outside also, giving Vick access to the 'A' gap. Here's an example from last week's game;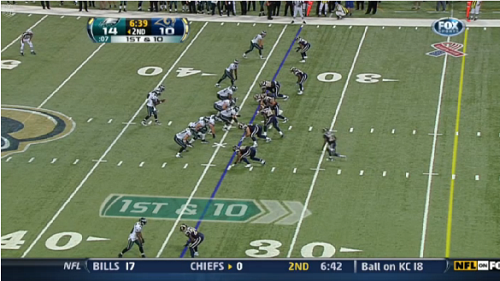 Here, Vick is in the shotgun with a passing play call. The Rams line up with 2 linebackers at the LOS, with a strong safety blitz, whilst Philly have their 5 O-linemen and a tight end in to block. It's 7 on 6 here, in the Rams favour.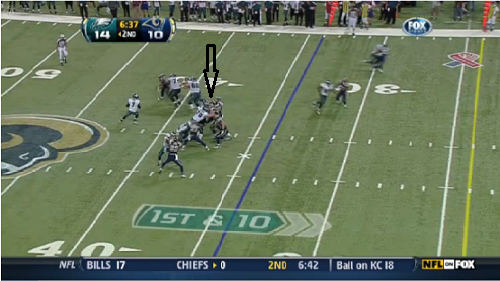 The ball is snapped and Vick makes his first read to the WR running an inside slant and sees the WR running a streak is covered. The defensive end gets a good jump on Philly's LT, and rounds him - he's almost in the pocket in this shot. However the DT gets forced outside by the left guard, opening up the 'A' gap (arrow). Note: The guards and tackles with two defenders to deal with are pushed into eachother - there is no gap created. The centre (with a little help from the RB), however, does a good job of avoiding closing the left 'A' gap, despite being double teamed.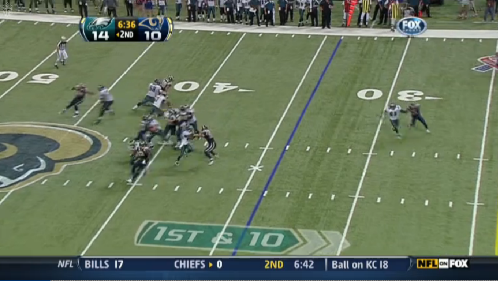 Vick sees the gap and takes off running. On this play (1st and 10 from the 34) Vick picks up 19 yards, the first down, and puts Philadelphia inside the 15 yard line.
Our DTs need to be on their game and watch out for this, especially in the red zone. If Abe and Kroy enclose Vick, the tackles need to ensure that they don't open any gaps for him to run through; if they can't do this one their own we might have to bring in either a linebacker spy or start double teaming their guards. The risk there is softening up the coverage, ensuring Vick will pick us apart with his $200 million left arm all day. Shudder.
Clamp down on 'speed plays': Firstly – 'Speed play' is a term I've come up with to describe the big plays where speed can beat us. I'm talking reverses, quick slants, screens…plays where, if the defence get their angle wrong, it's all over. There's probably already a term for this, it just hasn't trickled down to Western Australia yet. Week 6 last year highlighted to the entire league how to beat the Falcons solid run defence – run reverses. I don't have any stats for this, but from memory the Eagles ran at least 3 or 4 reverses last time. Whether I was just frustrated at the quality of the game or whether they were actually doing real damage, I can recall every outside run and reverse breaking off a big gain. Then there were plays like Maclin's 83 yard TD where we just got straight up beaten for pace (The Bengals' Jordan Shipley scoring a few games after was another example of how a bad angle and speed = points for the opposition). Our defence, however fast or slow it may be, needs to lock these down if we have any hope of slowing the Philly offense. Angles need to be right. Tackles need to stick. We can't be focused on Vick and Maclin and Jackson and McCoy all at once, we'd be too stretched for personnel, but if our defence can find a way to stop the speed plays from turning into big gains, we've got a chance of forcing Vick to put it in the air, for Brent Grimes and Dunta to feast on.
The Ice Man cometh back: We can all agree Ryan did more checking than Will Shortz on the weekend. It hurt to watch. I mean, my fantasy team liked the 40 yards receiving from Michael Turner, but let's try and not make that the staple of the passing game. Last week was probably the worst 300 yard game I've seen Ryan play, and he didn't really open up to downfield passes until junk time (MM takes some blame here too, naturally). Not to worry. I've watched a couple of Matt's press conferences in the week, and he was his usually PC self, but everybody knows this game is special. This is Ryan vs Vick, round 1. He knows that, we know that, Mike Vick knows that, everybody knows that. I'd like to think he, TG and Roddy White would have learned a lot from the Bears game and would be teaching the younger guys how to respond. Hopefully Harry Douglas is ok despite the concussion, because he (like JJ) looked like a useful weapon in limited targets. If Ryan can get on top of the elite corners of Philly early, and doesn't let his confidence get rattled after a pick (should he throw one), he could fire. Ryan had 42 attempts last time these teams met, and since then he's proven he's more than happy to take it to the skies. 400 yards on the Dream Team/Vick? Welcome to Falcons history Matt.
Well that was an essay. Last week was bad, but a win this week will kill all our doubts. Believe me, I want this win pretty badly, due to a good portion of my mates being Philly fans. We played poorly last week, but there'll be a fire in the Falcons belly for sure headed into this one. The Dome will be packed, the NFC #1 seed comes to Atlanta for the first time – the game won't be short on atmosphere. Let's hope we can come away with the win. As always, be sure to check out dunlagh's Worst Case Scenario article here. Thanks for reading, and once again, go Falcons!