MOST SURPRISING MOVE By Pat Yasinskas ESPN

[+] Enlarge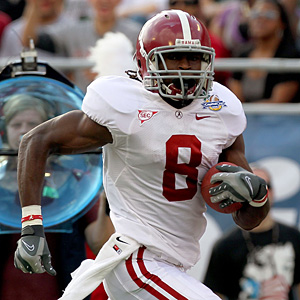 Jones had 2,653 yards on 179 catches with 15 touchdowns in three seasons.
The rumors started flying a few days before the draft that the Falcons were looking to jump into the top 10 and get a receiver. But most people, myself included, kind of dismissed that notion because moving that far up from No. 27 would be too expensive. 

The cost was incredibly high, but the Falcons did it because they wanted an explosive receiver like Jones. They gave up their first-round pick this year, along with their second- and fourth-round picks. They also had to include their first- and fourth-round picks in 2012. That got them to No. 6, where they gladly took Jones. 

The stunner here was the cost. But it appears the Falcons are going for broke, which isn't a bad move when you're coming off a 13-3 season. Atlanta added Jones to a passing attack with Roddy White, Tony Gonzalez and Matt Ryan, and Michael Jenkins and Harry Douglas as role players. By the way, the Falcons also traded up in the fifth round for Oregon State running back Jacquizz Rodgers. He's the kind of speed back the Falcons need to pair with Michael Turner andJason Snelling. I don't see how this offense can add much more to get better. 

Go out and get a pass-rushing defensive end in free agency, and the Falcons truly could be a Super Bowl contender. 
RotoWorld.com (Evan Silva):  http://www.rotoworld.com/articles/nfl/37849/174/draft-2011-nfc-grades?pg=1


Overview: Jones and Rodgers both required trades up, and in the process Atlanta forked over first-, second-, fourth-, fifth-, and seventh-round picks in 2011, as well as first- and fourth-round picks in 2012. While we appreciate G.M. Thomas Dimitroff's aggressiveness, that's a lot to pay for a possession receiver and 5-foot-6 running back. But the draft definitely makes the Falcons better right away. Jackson and Matthews were value picks, the former an underrated interior line prospect and the latter a relentless pass rusher. Dent is a big-time hitter at linebacker.  Grade: C+
CBSSports.com (Rob Rang):   http://www.cbssports.com/#!/nfl/draft/story/15008443/final-nfl-draft-grades-and analysis
I generally reward teams with high grades for aggression on draft day. I also understand the need to surround Matt Ryan with weapons and believe that  Julio Jones is a top-10 talent. However, let's put Atlanta's trade up for Jones into perspective. The Falcons feature arguably the league's best wide receiver already in Roddy White. That means that Jones - at best - will serve as the Falcons' No. 2 receiver. Giving up five draft picks, including two first-round picks, for a No. 2 receiver is too much. The Falcons took one of my favorite players in the draft -- Oregon State running backJacquizz Rodgers -- who will prove a steal as 145th pick. They also found a physical thumper in linebacker Akeem Dent and one of the more underrated interior linemen in the draft in Andrew Jackson in the seventh round. However, it was their secondary and lack of a consistent pass rush that allowed the Packers to score 48 points and push Atlanta out of the playoffs. Adding more offense and ignoring the defense until free agency is a risky proposition.  Atlanta Falcons: B-
Jason Cole (YahooSports) http://sports.yahoo.com/nfl/news;_ylt=As5x0XTzUZWjZUFa2A2B3p85nYcB?slug=jc-cole_2011_nfc_draft_grades_050
Analysis: The decision to trade five draft picks, including their first pick next year, to move up for Jones was one of the most hotly debated subjects during the draft. Give GM Thomas Dimitroff credit for recognizing that while the Falcons had the best record in the NFC last season, there were obvious holes in his team. Specifically, Atlanta was just not very explosive on offense, averaging near the bottom of the league in yards per play and yards per play differential. This draft didn't feature a lot of sure-fire game changers, but the Falcons got one at a key time because TE Tony Gonzalez and RBMichael Turner aren't going to last forever. LB Akeem Dent helps the front seven, even if he's not a dynamic player. The selection of Rodgers in the fifth round could be one of the steals of the draft.  Grade: B 
Wes Bunting (NationalFootballPost) http://www.nationalfootballpost.com/NFC-Draft-Grades.html
From the limited amount of players they brought in, I do think the overall talent level is good. WR Julio Jones can be a bonafide blue-chip receiver at the next level and is an ideal fit with what they want to do on offense. Also, RB Jacquizz Rodgers possesses elite lateral quickness and should quickly become a good change of pace option in both the run and pass game. Nevertheless, LB Akeem Dent still strikes me as nothing more than a solid two-down player who can contribute on special teams.     Grade: B
Dom Banks (CNNSI.com)
Speaking of scrutiny, Atlanta gave up a ton-and-a-half of draft currency to move up 21 spots to No. 6 and take Alabama's Jones. And I love it. You need to have some conviction in this draft business, and Falcons general manager Thomas Dimitroff is in no short supply of either belief in his own judgment or a sense of moxie.
Earlier this month, when I spoke to Dimitroff about this draft, he repeatedly returned to a theme of being willing to take a chance in the first round -- if you think you have identified a difference-maker for your team.
"You cannot be afraid to go for it when you get the chance to make something big happen,'' he said. But I didn't know he meant that big. The Falcons sent five picks to Cleveland for the No. 6 slot: This year's first- (27th overall), second- (59th) and fourth-round (124th) picks, as well as next year's first and fourth. That's not Herschel Walker deal territory, but you can see it from there.
Dimitroff looked at his 13-3 Falcons and deduced their top need was for another impact receiver to pair with All-Pro Roddy White. Atlanta was clearly not going to be able to consistently beat the likes of New Orleans in its division and Green Bay in the NFC unless it could increase its explosiveness on offense. The playoff-opening rout at home against the eventual Super Bowl-champion Packers merely showed Dimitroff how much firepower his team lacked.
Is Jones worth that kind of bounty? The track record of first-round receivers emphatically says no. But if he helps the Falcons maximize the window of Super Bowl opportunity they currently have, at what price that kind of glory? I give Dimitroff credit for going all in, and rolling the dice on a player he believes will help Atlanta reach elite status.
Read more: http://sportsillustrated.cnn.com/2011/writers/don_banks/04/29/round1.snaps/index.html#ixzz1LFUjF9k6
Peter King (CNNSI.com):
I love it for both teams. Cleveland has six or eight major holes all over the field and acquired three top-60 picks and two in the fourth round to address them. In Matt Ryan's career, Atlanta may never be in position to draft a 6-foot-4, 223-pound wideout who runs a 4.38-second 40 and blocks like a poor man's Hines Ward. The Falcons were desperate for an explosive offensive player to take pressure off Roddy White -- who turns 30 this season. Seems like a good deal for both teams, though I realize the Falcons slightly overpaid for a player who has B-minus hands.
Read more: http://sportsillustrated.cnn.com/2011/writers/peter_king/04/29/2011-nfl-draft/index.html#ixzz1LFXOLGwL
Atlanta Falcons: The Falcons made the boldest move of the draft, moving from No. 27 to No. 6 in the first round to take wide receiver Julio Jones. Now they have to address a defense that gave up 48 points to the Packers in the NFC divisional playoffs. The Falcons ranked 20th in the NFL in sacks and are reportedly interested in signing free agent defensive end Ray Edwards.
Read more:http://sportsillustrated.cnn.com/2011/writers/andrew_perloff/05/01/teams.with.holes/index.html#ixzz1LFU6uv7d
Cold Hard Football Facts http://www.coldhardfootballfacts.com/Articles/11_3746_Atlanta%27s_big_move_tops_night_of_surprises.html   Needs-based grade: B+
We'll never give an A to a team that drafts a receiver in the first round, for obvious reasons to CHFF loyalists. But with that said, the Falcons struggled to get the ball down field in 2010 (No. 19 in Passing YPA). Keep in mind, though, this grade is based on statistical need ... the bottom line is that the Falcons DESPERATELY overpaid the Browns, giving up five draft picks, including two first rounders, to fill that need by moving up 21 spots in the first round (1st, 2nd, 4th in 2011; 1st and 4th in 2012). They will live to regret the decision.  There are a number of reasons why this trade just doesn't make sense. We have not been shy in stating that teams should stay away from any receivers in the first round. There's a very high bust rate, and even when they do work out, they rarely improve a team's win/loss record.
First, as we stated above, first-round wide receivers (or as we commonly refer to them, shiny hood ornaments) have a very high bust rate, and, when they do work out, they very rarely have a major impact on the fate of a teams season.   Even if one could make the case that the Falcons are only a wide receiver away from eclipsing the Packers (and other elite teams) counting on a rookie wide receiver is a very tenuous proposition.   Randy Moss famously caught 17 touchdowns in his incredible rookie year. If Jones comes anywhere near that number Dimitroff can expect a parade in the streets of Atlanta and a statue in his honor. However, history suggests that most rookie WRs take three years to develop.    Hall of Famer Jerry Rice had 927 yards receiving and three touchdowns in his rookie year. Michael Irvin, another Hall of Famer, did not eclipse 1000 yards receiving until his fourth year.  Cris Carter did not reach 1000 yards until his seventh season; Tim Brown took six seasons.  Marvin Harrison (836 yards/8 TDs in his rookie season); Chad Johnson (329/1); Terrell Owens (520/4)....   There are exceptions, but, even wide receivers that are not busts rarely provide any benefit early in their careers.  There's very little reason to suspect that Jones is that much better than all the stars that preceded him.  
Finally, let's take a look at the recent history of major trades involving wide receivers. Keyshawn Johnson, Joey Galloway, Randy Moss (to Oakland) and Roy Williams were all involved in major trades in the past several years. Johnson and Galloway were each dealt for multiple first-round picks – while Moss and Williams provided a return of a first rounder plus.   None of those four came close to providing that type of return on investment. The Falcons better hope Jones doesn't continue the trend.
Losing two draft picks for both this year's draft and 2012's, Jones must become an All-Pro for this draft to be considered as a success. But when you really break it down, I don't think the trade is as drastic as it initially seemed to my fellow Falcons fans.
The team walks away from Radio City Music Hall with two instant starters (Jones and specialist Matt Bosher), two instant contributors (LB Akeem Dent and RB Jacquizz Rodgers) and a pair of possible backups along the line. How many teams can say they gained that sure of a draft in just six picks? Some teams didn't even finish with six picks of any sort.
Don't get me wrong; the trade is terrifying. If some combination of Ryan and Roddy White and John Abraham gets hurt in 2011, that lost first-rounder pick could be a top-10 selection. If the team loses two or more starting offensive linemen in free agency, that other dealt draft pick could hurt even more. If Jones busts ... let's not even think about that.